Our 13th reunion will be held September 10th to 14th in Philadelphia, Pennsylvania.
Reunion details are now available
, including registration form, hotel information, and reunion itinerary.
Please click here to go to our reunion page
.


2008 Reunion, Myrtle Beach SC


Welcome to the official Web site of the
USS Charles H. Roan Association
. This site is dedicated to the memory of the
USS Charles H. Roan (DD-853)
and the men and officers who served aboard her. The destroyer, USS Charles H. Roan (DD-853), and her crew proudly served the United States Navy for 28 years. Please explore our site, and learn more about the USS Charles H. Roan (DD-853), the ship affectionately known by her crew as
"The Jolly Cholly."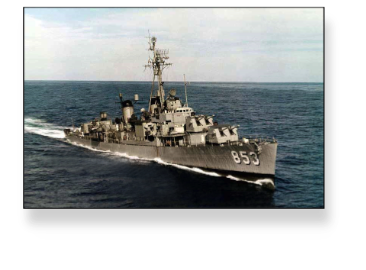 DD-853 was named in honor of Pfc.
Charles H. Roan
, USMCR. Please
click here
to learn more about Charles Howard Roan, and the ship that was named in his honor.


Our Association
was founded in 1990 to honor and remember the
"Jolly Cholly"
and her crew. Our Association is open to all former shipmates, and best of all, it costs absolutely nothing to join - it's free! You can use our
Membership Form
to join.


If you're looking for an old shipmate, please visit our
Ship's Roster
where you can search by name, or years served.

Read past issues of our
newsletter
,
The Jolly Cholly
, where you will find interesting stories about our ship and the men who served aboard the Roan.

We hope you enjoy your visit to our site. Please don't hesitate to
contact us
if you have any questions or would like to contribute photos or stories about the Jolly Cholly.


Fair Winds and Following Seas, Shipmates.


Our Spring 2014 issue of the Jolly Cholly is now available.
If you have not received yours, or you would like to receive a copy, please contact our Jolly Cholly editor at
editor@usscharleshroan.org.
All of our newsletters are available on our website. Please visit our
Newsletter
page.
New! Roan Medallion
We have a beautiful medallion featuring the ship's crest on one side, and the ship's profile on the other side. The medallion is approx. 2'' in diameter and includes a protective case.
You can purchase this medallion in our
Ship's Store
for only $20. Don't wait. We have limited quantities available.
Check us out over on Facebook. There's a lot of lively conversation about the Jolly Cholly. It's a great place to catch up with fellow shipmates.

IMPORTANT NOTE ABOUT OUR SITE: This site best viewed with Internet Explorer v7 or higher, Firefox v3 of higher,
or Safari v3 or higher. Internet Explorer v6 or lower is not recommended.